The New York Times published a disturbing yet informative article on March 22, 2022, detailing how alcohol-related deaths increased by 25 percent in 2020 compared with 2019. In fact, among adults younger than 65, alcohol-related deaths actually outnumbered deaths from COVID-19, with 74,408 Americans aged 16-64 dying alcohol-related deaths while 74,075 adults under 65 died of COVID-19.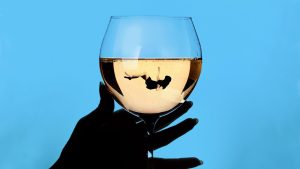 Aaron White, the original author of the study and a scientific advisor at the National Institute on Alcohol Abuse and Alcoholism, states "The assumption is that there were lots of people who were in recovery and had reduced access to support that spring and relapsed."
White goes on: "Stress is the primary factor in relapse, and there is no question there was a big increase in self-reported stress, and big increases in anxiety and depression, and planet-wide uncertainty about what was coming next. That's a lot of pressure on people who are trying to maintain recovery."
At the end of the article, Dr. White calls for a new approach to treating alcohol addiction, one that places more focus on coping with stress in a productive manner: "We are entering an era in public health where we are talking more about promoting wellness and building resilient people. What we are doing now is not sufficient. We need to help people live meaningful pur
pose-filled lives."
As someone in long-term recovery, I can say that learning to cope with stress in a productive way, without leaning on alcohol, is one of the greatest challenges of recovery. I have found that replacing bad habits with good ones makes breaking those bad habits easier. Author Charles Duhigg discusses this phenomenon in his book The Power of Habit. It's a great read if you're interested in this subject.
For me, my primary stress release has become exercise. There is evidence that regular aerobic exercise has real benefits for those in recovery. It really helps me because it provides an outlet to burn off all that nervous energy! I always listen to my favorite songs when running and can literally feel the stress melt away. I always feel better after a jog.
For anyone reading this who may be struggling with addiction, please know that you are not alone. The 12-step group I attend regularly is called YANA for "You Are Not Alone." Here are some resources that may be of assistance:
12-step is not necessarily for everyone, but it has worked for me. Here's a link to find an AA meeting near you and here's a link to find a Narcotics Anonymous ("NA") meeting near you.
The Substance Abuse and Mental Health Services Administration ("SAMHSA") runs a 24-hour, confidential hotline for anyone struggling with addiction or mental health problems. Don't ever be afraid to reach out for help. You can live your best life if you put your mind to it and there are plenty of folks out there ready to help you get there. The SAMHSA hotline is 1-800-662-4357.
Hazelden Publishing, the publishing arm of the Betty Ford Foundation, has a ton of great resources to find and maintain recovery. They have many different recovery books, journals, workbooks, and other resources. I have personally purchased some of them and they have really helped me out in my recovery journey. Here's the link.
For my fellow members of the Bar who may be struggling, here's the link for Florida Lawyers' Assistance. They run a confidential hotline and can get you the help you need.
If just one person reads this article and finds help one day, it is all worthwhile. Here's to your best life.
Have a great day!
Best Regards,
Ryan C. Torrens
Consumer Advocate