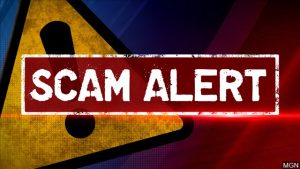 Good Afternoon!
I hope you all had a very nice Thanksgiving! For today's newsletter, I will focus on a scam targeting Floridians who are taking the courageous step of starting their own businesses. 
One of the things I love about our country is the opportunity to start a business and become the master of your own destiny. In many other places around the world, this is not an option. 
You should be able to exercise that right, however, without being targeted by scam artists looking to rip you off at a time when you are pursuing your dream of becoming an entrepreneur and starting your own business. 
In Florida, you incorporate a new business through the Florida Secretary of State's Division of Corporations. Scammers are trolling the Division of Corporation's online records to find the recently incorporated businesses and mailing letters to their addresses of record. These letters are designed to look like they are from a legitimate government agency but they are not. 
I have personally seen a scam letter asking the new business owner to send payment of $87.00 for a Certificate of Status, which is a document confirming your company remains in active status with the state. The letter made it sound like it was urgent to order this document. This document is not required to be purchased at all when you incorporate your business. It is optional. The real kicker is that this document can be ordered directly from the Division of Corporations for $8.75. 
I have also seen scams where they falsely represent that you must pay for an Employer Identification Number ("EIN"), when this is obtained for free directly through the Internal Revenue Service ("IRS"). 
If you have started your own Florida business and ever have questions about the legitimacy of correspondence, you can always call the Division of Corporations directly and inquire whether the letter was sent by them. They can be contacted by phone at 850-245-6000.
Your efforts to start your own enterprise should be applauded. Don't let scam artists take advantage of you and your new business! 
Please help get the word out about this scam! Please share this with any new business owners you think could fall victim to this scam! 
I hope this information has been helpful. I hope you have a wonderful Sunday! 
Until next time,
Ryan C. Torrens, Esq.
Consumer litigation attorney