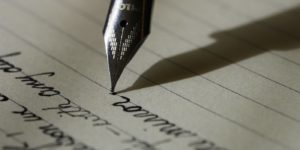 Most would not know this, but every post I write for this blog is handwritten with a fountain pen.
As someone with ADHD, I like to write by hand because it allows me to write without the distractions of the computer (i.e. "let me check e-mail real quick!") I have also noticed that I remember what I write better when I write by hand as opposed to typing on a computer.
After I handwrite the first draft, I will then type the piece out onto a Microsoft Word document. I will usually edit the piece a little on the computer and finalize it. For me, the additional time it takes to handwrite the first draft is more than made up for the increased concentration I have when I write by hand.
A piece I type on the computer could take, in some instances, twice as long than if I wrote it by hand because of the inevitable distractions.
A couple of years ago, I discovered how much more enjoyable handwriting can be if you have good tools like a quality pen and a notebook with high quality paper. So a couple of years ago, I bought my first fountain pen and fell in love with it.
When writing in fountain pen, the quality of the paper is important (because the ink will bleed through cheaper paper) so I started using higher quality notebooks. My favorite at the moment is Leuchtturm1917, which can be purchased at Barnes & Noble or online. For me, it makes the writing process more enjoyable and gives me an added incentive to write more.
One of my favorite fiction writers is Neil Gaiman. About a year ago, I listened to an interview he did with Tim Ferriss and, in that interview, Gaiman discussed how he usually writes his first draft in fountain pen and he spoke highly of New York City's Fountain Pen Hospital, a pen store that has about 2,000 different pens in stock. On this trip to New York City, we made the visit to the Fountain Pen Hospital and it was such a great experience, I just can't help but to take a few minutes to write about it.
I was helped for over two hours by an extremely knowledgeable employee named Jimmy. I let Jimmy know that I was looking for a real "workhorse" fountain pen since I write a lot for my work. With Jimmy's learned guidance, I ultimately decided on a beautiful blue and red Sailor fountain pen with a broad, medium nib. I told Jimmy, "Now Jimmy, I'm a lawyer and I write a lot. I need a real workhorse, not one of those fountain pens I have to constantly stop what I'm doing and clean it." His response was that I would write with this fountain pen until the day I retire. And you know what? I bet Jimmy's right. That man knows his pens.
For a moment, we had a broader discussion about how writing by hand is becoming a lost art. Today, our students rush to the computer for all of the answers without taking the time to write, to think, and to pick up a book. Not a book on a computer, but a real book.
Jimmy noted that, because of this trend, his store is now the only remaining fountain pen store in New York City. There used to be seven in total, and now there's only one left, the Fountain Pen Hospital.
Many thanks to Jimmy and the rest of the staff at the Fountain Pen Hospital for a great experience.
I hope there will always be wonderful stores like the Fountain Pen Hospital.
Best Regards,
Ryan C. Torrens, Esq.
Consumer litigation attorney