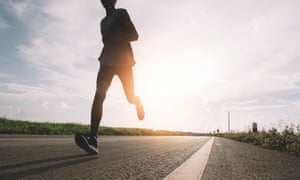 I love running.
I was a bit of a latecomer to the sport, but it has saved me in so many ways.
I didn't start running until I became a lawyer. I think the demands of my new job back then triggered a desire for a healthy outlet. I remember going for my first run, just around the neighborhood.
I figured I would try it, just to see how it would make me feel. I remember running with my headphones and my iPod (this was more than ten years ago) and feeling that this might be just what I needed.
After that first run, I wanted more. I liked the way it made me feel. And rather than depleting energy, running seemed to give me more energy.
I also quickly realized that I would do some of my most productive thinking while running because of the clear mental space I would have when I ran.
Once I realized that running would work for me, I signed up for my first 5k. I loved it so much that I then quickly signed up for my first 10k, then a 15k, then a half-marathon and, after that, five marathons in pretty quick succession.
I was hooked.
I have tried other forms of exercise and I still incorporate cycling, swimming, and strength training into my workouts, but running will always be my favorite.
We all have our own journey and running seems to be one of those exercises that people either love or hate.
Running makes me feel good, sharpens my mind, gives me more energy, and gives me more clear mental space.
Running allows me to handle the burdens of a busy litigation practice in a positive, healthy way.
I don't do anything special and I don't even run fast. I usually run a couple miles a day, maybe a little more. I'm a slow runner but, even with that, the whole routine just takes thirty minutes of my time. For me, it's thirty minutes well invested.
I am so grateful that I discovered the benefits of running. It has improved my life in countless ways. It also makes me a stronger, more resilient attorney. #Run4Life
Best Regards,
Ryan C. Torrens, Esq.
Consumer litigation attorney