My wife and I had a nice surprise show up at our door the other day, an adorable little kitten. We decided to name her Cosmo.
Two young girls, who happen to live a few doors down from us, begged us to take her in. They found her all alone at the local park. She was starving and helpless.
Although neither my wife nor I have ever had a cat, there's a first for everything.
We decided to take her in and we are so happy we did.
I work from home about three-quarters of the time. One of the (new) benefits of this schedule is that I get to hang out with our new little furry friend while I work, read, and write. She likes curling up next to my books and enjoys hanging out under my desk while I write away. It's a bit hard to explain but there is something Zen, something therapeutic about it that inspires me to write more.
I'm not an old timer by any means, having just turned 36, but I have learned that it's usually the small things in life that are the most special.
The small things, like Cosmo ?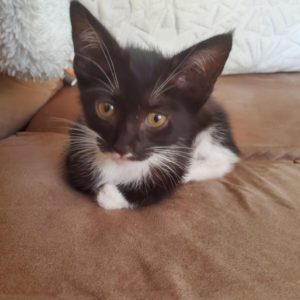 You may be wondering "Why is this lawyer writing a blog article on his law firm website about his kitten?"
My answer: C'mon now. Let's be real. What's more popular – lawyers or kittens? Now THAT'S an easy one.
Cosmo will get more "likes" than I would any day of the week.
Best Regards,
Ryan Torrens
Consumer litigation attorney