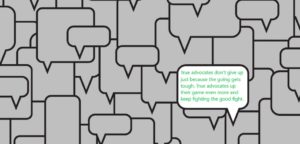 I have been working full-time as a foreclosure defense lawyer since January 2013 and what a journey it has been.
We have had the privilege to save hundreds of homes so far in our practice. What a joy that is. While the daily grind of the practice surely can be stressful, the joy of saving a family's home makes it all worthwhile.
I remember back when I was applying for law school, the law schools wanted a personal statement from me on why I wanted to be a lawyer. I remember writing that I wanted to be a lawyer because it would give me a real opportunity to make a difference in the lives of people needing help.
I am so grateful that the doors of opportunity opened so that I can work every day to fulfill that promise I made years ago.
Just yesterday we were able to save another client's home after he fought the bank for many years. How grateful I am to be of service and save this nice man's home.
On the hard days, it can be easy to start to give up hope. But true advocates don't give up just because the going gets tough. True advocates up their game even more and keep fighting the good fight.
We all have something we are passionate about, even if some of us don't realize it at the moment. I can honestly say that I have the same passion for fighting for our consumers as I did on Day 1. This passion keeps me going through the tough times.
It is my hope that newly admitted young lawyers will strongly consider practicing consumer law. We will desperately need an army of talented consumer advocates to protect the rights of our citizens.
This is our new website and it's still a bit of a work in progress. I hope that this blog will give some glimpse into who I am not just as a consumer advocate, but as the imperfect human being that I am. At this point, I think we are all bored with the stuffy lawyer photos. At our firm, we like to do things differently and this blog will be different too.
So check in from time to time and see what we have to say. I hope you too will find your passion and put it out into the world.
Best Regards,
Ryan C. Torrens
Consumer litigation attorney