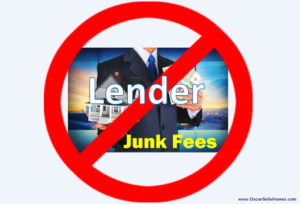 Good Morning:
I hope this newsletter finds you and your family doing well. Today I'd like to discuss a very disturbing trend we are seeing with the excessive fees large banks and mortgage companies are charging to our homeowners' mortgage accounts. I will conclude by offering a few suggestions for how you can protect yourself, the integrity of your mortgage account, and your home.
As a foreclosure defense attorney, a standard approach I take is to demand certain documents in the discovery process of the case, specifically the mortgage payment and loan transaction histories so I can carefully review each of the charges imposed on the homeowner's mortgage account. I am seeing fees being charged to homeowners' mortgage accounts that are excessive and, in some cases, illegal.
Let me give you just a couple examples:
Multiple "property inspection" fees being billed to the homeowner's mortgage account within a one-month period even though the property is owner-occupied and already properly maintained; and
"Advance fees" showing up on the homeowner's mortgage statements even though the homeowner is current on the mortgage.
While some of these fees are small ($11 – $20 each), they add up fast and can result in your loan falling behind and can even end up putting you in foreclosure. Here's what you can do to protect yourself and your home:
Read this handout from the Consumer Financial Protection Bureau ("CFPB") on your rights with respect to your mortgage account. This short handout also briefly describes what information your mortgage company is obligated to provide to you;
Read your monthly mortgage statements carefully every month.This way, if you find an improper fee, you can address the problem right away before it escalates into a serious situation; and
If you do find a fee that you believe may be improper, contact your mortgage company right away by phone. If they still refuse to remove the fee, you have a couple different avenues to get the illegal fees removed:
Option 1:  File an online complaint with the CFPB. You can find the online complaint form by clicking HERE.
Option 2: Call a competent consumer protection attorney to discuss a potential lawsuit against your lender. A lawsuit may be able to get the fee removed and you may be able to recover damages as well as your attorney's fees and costs. Many consumer attorneys accept these cases on a contingency-fee basis so you do not have to pay any out-of-pocket costs or attorney's fees. As long as the case is settled successfully or a verdict is reached in your favor, the lender will usually pay the attorney's fees and costs directly to your lawyer, meaning you do not have to pay any fees out of your own pocket. I am a proud member of the National Association of Consumer Advocates ("NACA") and their online attorney directory can be found by clicking HERE.
You have an absolute right to an accurate accounting of your mortgage account and to the correct application of your mortgage payments. You have rights and you shouldn't hesitate to invoke those rights when your lender is violating the law. I hope this information is helpful to you and your family.
Have a great week!
Best Regards,
Ryan C. Torrens
Consumer litigation attorney
Disclaimer: The information provided in this email does not, and is not intended to, constitute legal advice. Ryan Torrens is only licensed to practice law in the State of Florida. Instead, all information, content, and materials available in this email is for general informational purposes only.