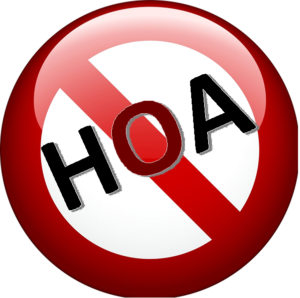 Good Evening:
Someone is knocking on your door. You answer the door to see it's a sheriff. Your kids start shuffling in behind you, wondering why the sheriff is there. Your family is being evicted.
You've never missed a mortgage payment. How is your family being kicked out of the home you love? Your homeowners association ("HOA") has foreclosed on you over a dispute about $300 in HOA dues. The $300 problem became a $3,000 problem when you tried to work it out and the HOA attorneys kept tacking on attorney's fees. Despite the ten years of mortgage payments ($1,500 per month, totaling $180,000), you are losing your home to the HOA. This is the tragic reality for families all across our state.
It's time for a change. It is understandable that a bank can try to foreclose when the mortgage is in default, but no Florida family should be kicked out of their home because of a missed assessment or because the HOA claims you do not have their preferred kind of grass in your yard. That is ridiculous.
The list of abuses goes on and on and on.
We must act and act now! It is not enough to just complain about this situation. The longer we wait, the more Florida families will be kicked to the streets by their HOA.
The power is in our hands! Through old-fashioned citizen action, we can change the laws in this state, either through legislative reform or a ballot initiative, and reign in or even abolish HOAs in this state. Frankly, enough is enough.
We are looking for fellow Floridians who are fed up with HOA abuses in our state and are willing to dedicate time and energy to reforming our HOA laws. The abuses are so staggering that I believe even consideration of a constitutional amendment to ban HOAs in this state would be in order.
We are looking to form a coordination committee with the purpose of starting a non-profit advocacy group to advance this important cause. Anyone interested in joining this movement should contact us at
ryan@torrenslawgroup.com
.
The naysayers will say this is impossible. They will say the HOAs and their allies are too powerful. That's okay. Most things worth doing in life are hard. I'm ready for this fight. I hope you are too. Let's be bold and courageous. Let's do this for all the victims of HOA abuse all across our state.
It's time to get to work. The longer we wait, the more families will be kicked to the street by their HOAs.
Consumer litigation attorney
Disclaimer: The information provided in this email does not, and is not intended to, constitute legal advice. Ryan Torrens is only licensed to practice law in the State of Florida. Instead, all information, content, and materials available in this email is for general informational purposes only.